Warlayirti Artists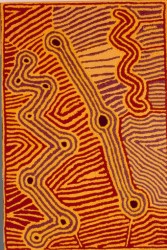 Based at remote Balgo in Western Australia, Warlayirti Artists was established in 1987 after the Balgo people took up painting with acrylic in the early 1980s.
Balgo painting is renowned for its bright, saturated colour and bold designs. The vivid colouring of Balgo painting reflects the intense colour of the landscape after the rains, when the desert blossoms with new growth and wildflowers.
A number of Papunya Tula artists have strong links with Balgo, and some, such as Brandy Tjungurrayi, paint for both companies.
In 1992, the National Gallery of Victoria held a major exhibition of Balgo and other Kimberley art, entitled Images of Power.
Further information: